Women's Resource Center of Sarasota County
Sep 17
An Army Soldier's Struggle for a Life Well Lived
Army veteran Alice Bice entered the military right after graduating from Sarasota High School in 1987. "I didn't understand what it was like to feel pride and patriotism until after I joined the military," said Bice. "My parents didn't have money to send me to college, and I just wanted to do something different than stay in Sarasota."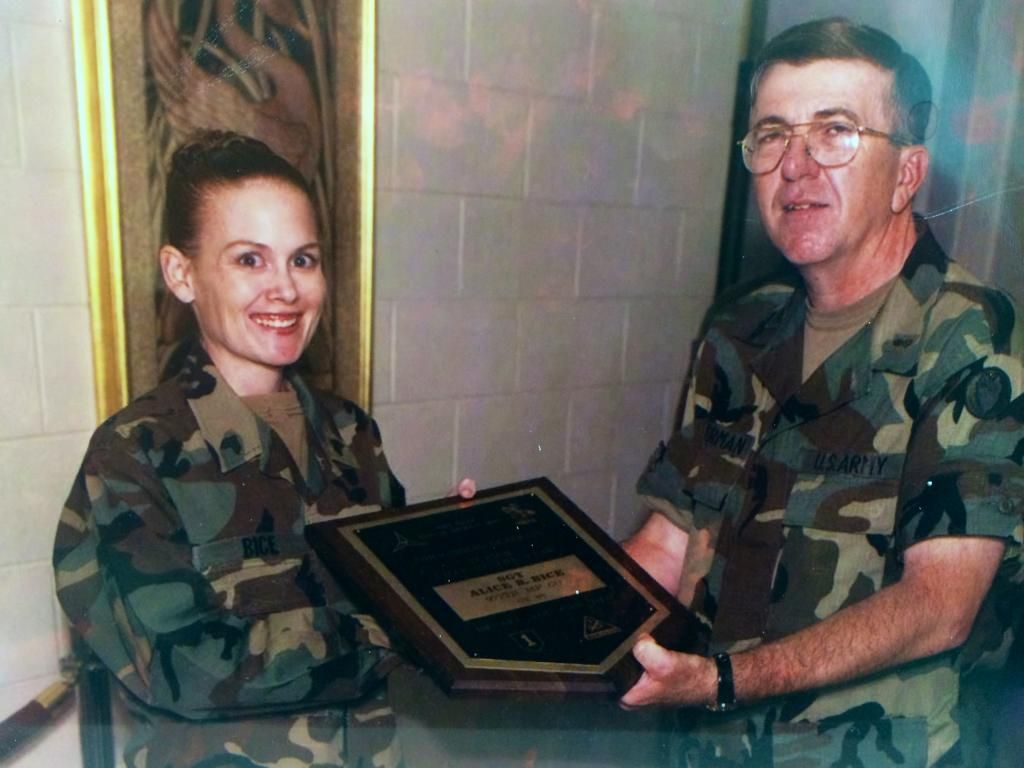 Starting out in telecommunications during Desert Storm, she spent 12 years serving her country. She's been all around the world, including tours in Germany, Korea and Bosnia.
While in Korea, she became pregnant with her son. "My commander told me I was too fat to fit in a body bag so they sent me back to Ft. Riley to have my son," she said.
That's where she trained to be an executive chef and was going on to compete for Chef of the Year in Ft. Hood, hoping to be televised on the Food Network, when she received devastating news. The single mother of a five-year-old son was told that she had cancer, with a low life expectancy.
"They felt that my life expectancy was so low it would be better if I retired," said Bice. So she did, and after extensive treatment and chemotherapy, she miraculously recovered. "I was so high on life and decided to go to school, so I used part of my GI bill."
She graduated with a degree in psychology and started working as a teacher at Oak Park School in Sarasota. "My degree was in psychology not education so I was working during the day and trying to get my education degree at night plus being a mom," she said.
Then, more bad news came. She started losing her hearing as a side effect of the chemotherapy. Unaware that she could get hearing aids through the VA, and after a few very bad and embarrassing interactions over the phone with them, Alice retreated and hid.
"I had a lot of anxiety; I had to stop teaching, and for the next few years, I basically went into hiding," she said. "In the military, if you can't go strong, you don't go at all," she said. "I just stopped going. I guess that's where my life stopped. I would go for weeks without speaking because when you lose your hearing, it's hard to maneuver in the world."
"Female veterans have gone through a regimented training process and many times have had to suppress their feelings and emotions in order to fit into a structured military environment," said Valerie Goddard, executive director of the Women's Resource Center of Sarasota County."Once they have separated from the service, they have to learn a new way of coping and communicating in the civilian world. At our organization, we help female veterans first by acknowledging and appreciating their service to our country and secondly, by providing a warm and caring environment that they can feel is a place that they belong," said Goddard.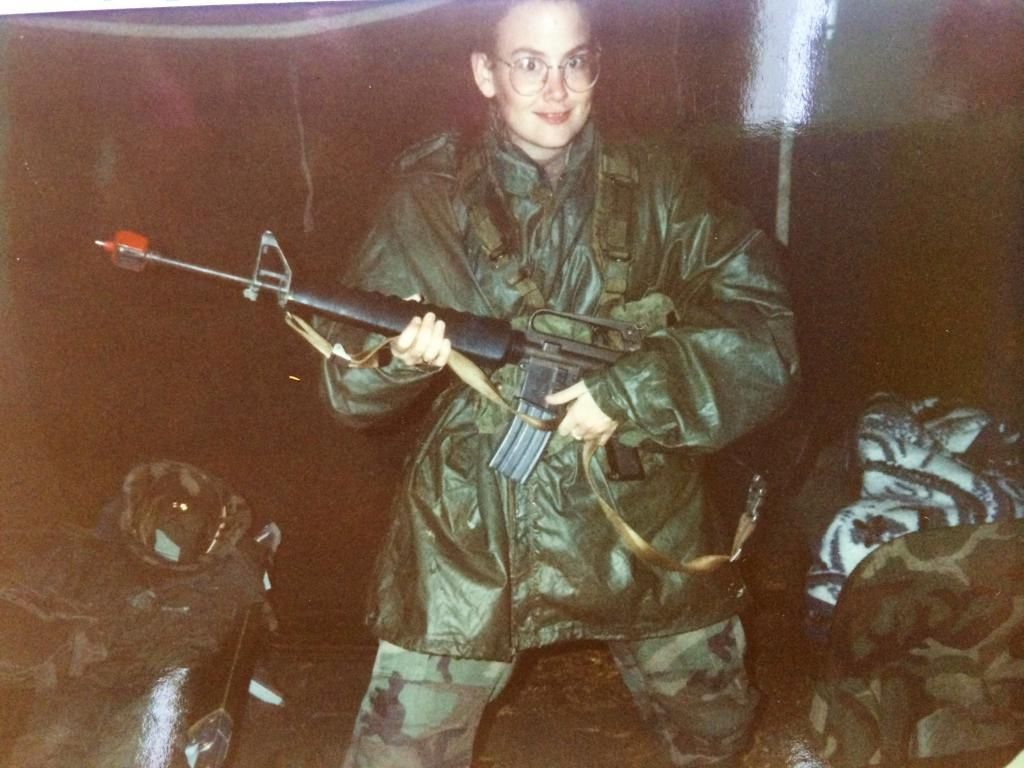 That's exactly what Alice found at the WRCSC.
A fighter at heart, she eventually got those hearing aids and found her way to the Center last month.
"I pulled myself up this far and I don't want to hide again; I need help, and someone to listen. Where do I go from here? That's why I went to the Women's Resource Center, and after I met Valerie, for the first time I didn't feel so ashamed. It was the first time I've had hope in so long, and it feels good to have hope. It was ok to tell my story there."
At the WRCSC, one of the many things they help female veterans work through is learning how to integrate back into a civilian environment. "They've been told to be tough, to suck it up, to hold it in, to man up, and that is totally against the grain of how we (women) are made," said Goddard.
Alice now dreams of continuing to work with children with disabilities and finally finish that education degree. But first she needs to find a job.  
"Their training places veterans heads and tails above many others in the workforce," said Goddard. "They are disciplined; they are taught to be on time; they are taught to be sharp; they have a certain level of esprit de corps; and they understand business ethics and how to conduct themselves in the workforce. When you hire a military veteran, you're going to get a loyal, committed employee who will go above and beyond the call of duty to fulfill the mission."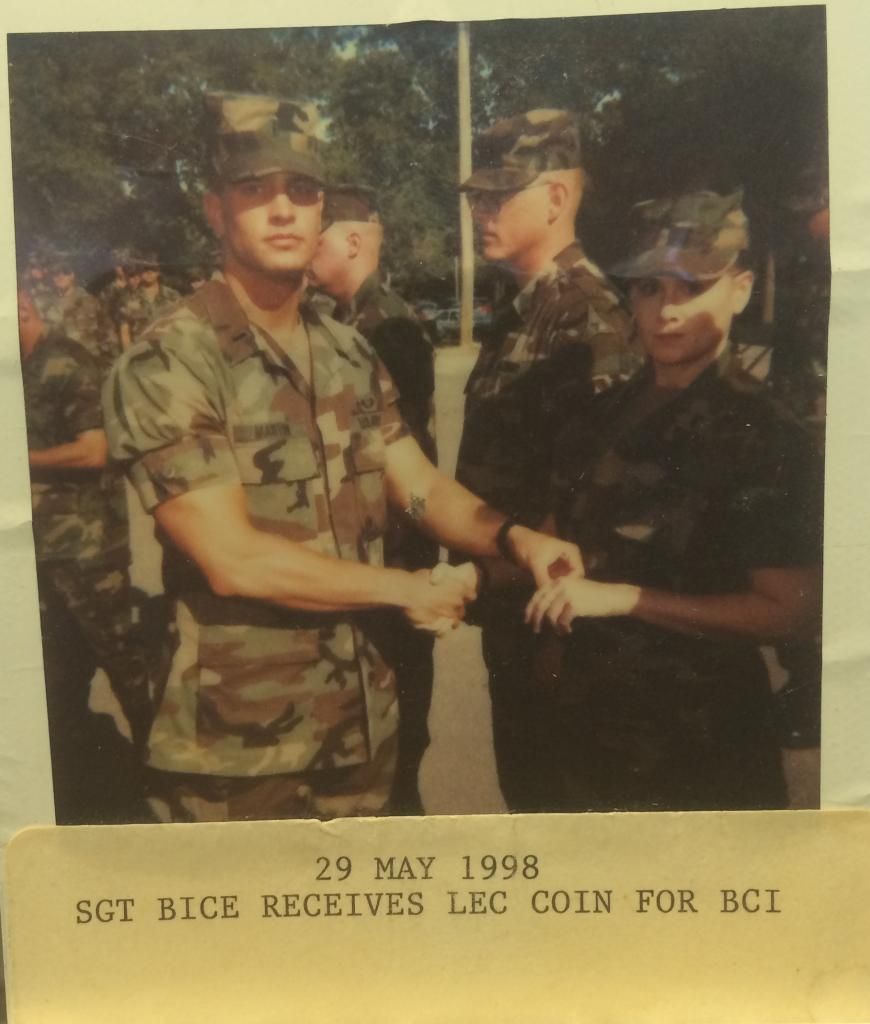 At the WRCSC there is a career center dedicated to guiding women through the career development process to get them ready to seek employment in the community, plus counseling services for support along the way.
"During their process, we can hear their story, appreciate their story and help them prioritize their goals with regards to how they choose to move forward in life," said Goddard.
That's where Alice Bice is now, taking proactive steps with help, to improve her life with the goal of helping others.
"I just feel that if you live your life and you're doing something to help somebody, you're doing something to make yourself stronger or the people around you stronger, it's a life well lived," said Bice.
Click here to hear about Alice's experience coming to the WRCSC in this video.
(Source: TheWomensResourceCenter.org)
Apr 14
Executive Director Valerie Goddard and guests recently joined Stuart and Stephanie on WSRQ Radio. In addition to having the Women's Resource Center of Sarasota County on the show, Salt and Light Productions has chosen WRCSC as the 'Charity in the Spotlight' featured during the month of April on Salt & Light Radio.
You can listen to the podcasts here and here.
(Source: TheWomensResourceCenter.org)
Dec 02
Let Freedom Ring
The February 3 luncheon - Let Freedom Ring - with Kitty Kelley will be held at 11:30 a.m. at the Sarasota Yacht Club. During the fundraiser, Kitty will discuss her new book, "Let Freedom Ring: Stanley Tretick's Iconic Images of the March on Washington," which was published in August 2013. She will also be signing books after the book discussion.
A $75 ticket includes lunch, entertainment from the Westcoast Black Theatre Troupe and more! All proceeds benefit the Women's Resource Center of Sarasota County's many programs and services.
Please call 941-366-1700 or visit www.TheWomensResourceCenter.org for more information. Tickets can be purchased at www.LetFreedomRing.CharityHappenings.org.
Oct 03
The Light Within Enrichment Program
The Light Within Enrichment Program is the next step for anyone who is ready to enrich and ignite their life. This inspirational inner awareness journey brings more light into your life.
 
Beginning November 2013 (Nov. 5, 6, 7, 12 & 13 from 9:30 am to 3 pm), classes are being offered five days, any combination of five days or even just one day - depending on your time and interests. Michele Frith Szabo, Challenge Coordinator, and guest presenters Dr. Christina Captain and Joy Yackley will be facilitating. Each day will cover a different life-enhancing experience and topic. Come enrich your life and share the gift of light with a friend.
Sep 24
2013 Fall Gathering Luncheon
We're a little over a month away from our South County fundraiser - the Fall Gathering luncheon!
Known for its upscale drawing prizes and extensive silent auction, this annual luncheon is one of the largest in South County. With over 20 years experience as a professional actress in film, television and on stage, author and comedian Linda Larsen is this year's featured guest. Attendees will also hear a medley of songs by "The Chairman of the Board" Frank Sinatra from John Rinell. 
The funds raised at this event help support the many programs and services provided by the WRCSC, including Challenge, employment guidance, peer resource advisors and more.
Guests are asked to donate a new or barely worn item that made them feel absolutely "chair-ismatic" to Encore & more, the WRCSC's consignment boutique. Prizes will be awarded for the best donation.
WHEN: Friday, November 8 at 10:30 a.m.
WHERE: Plantation Golf & Country Club at 500 Rockley Blvd. ǀ Venice
COST: $50
CHAIR: Sandy McGowan, owner of Sandy's Designer Clothing 
RSVP: Call 941.485.9724 or visit 2013FallGathering.CharityHappenings.org
(Source: TheWomensResourceCenter.org)
Aug 28
[video]
Aug 05
[video]
Jul 31
Please help us spread the word!
The Women's Resource Center of Sarasota County has rental space available within its large building. The location is perfect for board retreats, receptions, concerts, classes, art showcases and more. Choose from two rooms with capacity varying from 20 to 85. See our ad here.

Property also features:
o A full kitchen ($75 fee)
o Large parking lot
o Restrooms
o Table and chairs
o Piano ($75 tune-up fee)

Pricing ranges for $250 for half a day (five hour max) and $500 for a full day. Call 941-366-1700 to schedule your event.
Jul 09
Hurdles and Perseverance
Florida Governor Rick Scott recently vetoed funds for the Displaced Homemakers Program, resulting in a loss of $82,000 for the Women's Resource Center of Sarasota County (WRCSC). We have received this grant since 1979 with the goal of helping women attain independence, economic security and self-sufficiency by addressing their educational and job training needs.
Despite this hurdle, the WRCSC will overcome and persevere - just as the women who walk through our doors do every day.
Articles have been written by the Sarasota Herald-Tribune and Venice Gondolier Sun on this issue, and we appreciate the support!
Below is a passionate testimonial from Cheryl Wiedwald, a recipient of the resources found at the WRCSC.
Dear Governor & State lawmakers,
I am sorry that it took so long for me to write about the amazing experience I had & continue to have at The Women's Resource Center of Sarasota County. I would like to be writing this knowing that their funds were still in place as they should be. It would be nice to have had the opportunity to recommend that you suggest on a Federal level how amazing this program works in your state & encourage other states to have the same program. 
This center & its employees are vital to giving direction to women who are struggling to find a start to get back on their feet and become productive, confident members of society. By giving them the tools & resources that were afforded to me & many other amazing, intelligent, caring, energetic women aged from their 20s to 80s, you will have unemployment drop, entrepreneurs emerging and the mindset that volunteering, educating & reinventing yourself until you find a suitable paying job is a way to give back & pass the torch to others. The Center drives optimism, out- of-the box thinking & positive energy flowing to anyone who comes in contact with the day-to-day workers as well as the professional women who volunteer their time to get us going again in a positive direction.
Words cannot describe the hard work & dedication that makes up this Center that flows from the few paid professionals that make their living there through to the very last volunteer that keeps this place running better than any other company or government office. It is because of the spirit & perseverance of these gifted & caring women carrying forth because they themselves have experience mind blowing difficulties in their life. They got themselves up & drove themselves forward & are sharing & giving so much more to each and every one of those of us that found our way thankfully to the front door of this Center. 
This grant should not just be called "Displaced Homemaker."  This is so much more; a working mother, an abused wife or a women caring for an ill loved one. Perhaps this is a way to get this funding back as it is so much more than Displaced Homeworker. I don't think any of the women in my class were there just for that. All of the women were facing much more serious problems & perhaps that is why this money was taken away. CHANGE THE NAME AND GIVE IT BACK!!
Thank you for your firm consideration on this issue,
Cheryl Wiedwald
(Source: TheWomensResourceCenter.org)
May 29
Leadership as a Way of Being: Lessons Learned
Janice Zarro, the executive director for the Women's Resource Center of Sarasota County, recently attended a leadership seminar presented by Ambassador James A. Joseph at the Community Foundation of Sarasota County. During the session titled "Leadership as a Way of Being: Lessons Learned," Mr. Joseph shared the following helpful lessons:
1. It is possible for a leader to be humble without being docile, strong without being arrogant and still exert great influence.
2. The leader must be capable of learning from those he/she leads and must be capable of doing so without losing respect or influence.
3. Despite the continuing dominance of hard power - economic muscle and military power - in exerting influence and pressing one's will on others, I have found that soft power - acts of generosity, diplomacy, moral messages and respect for other cultures - is likely to develop goodwill and establish relationships that are far more enduring.
4. Leaders who seek power to disperse it rather than simply concentrate it have a very special attraction and appeal.
5. In times of rapid change, zealots emerge claiming one truth and one theology. The challenge for the leader is not to use his/her values to proclaim absolutes but to help others cope with ambiguities.
6. The value-driven leader who needs consensus in order to act is likely to be most effective if he/she is willing to help shape that consensus rather than simply respond to it where it can be found.
7. Leadership is likely to be far more effective when it appeals to people's better nature.
8. While we seek to change the practices of the adversary, it is important that we maintain respect for his/her humanity.
9. The leadership style that works best for me is leadership that seeks to evaluate and empower others. It seeks to engage the whole person in ways that satisfy higher and nobler needs.
10. An organization is what it rewards. It is not so much what is says in its mission statement or even its code of conduct, as it is what it rewards its people for being.
11. There are no hard and fixed absolutes about either managing or leading. To be rigid and play only by the rules on your organization chart or the theories of some guru is to miss the opportunity to meet people where they are. People-centered leadership recognizes the uniqueness of each individual and seeks to unleash the magic within.
12. Every leader does not have to be a superstar. Many apparently ordinary people are quiet leaders who make extraordinary contributions. They may not be seen as giants in the grand scheme of things, but the superstar could not accomplish anything without them.
(Source: TheWomensResourceCenter.org)